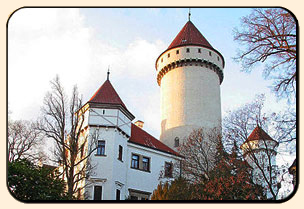 Konopiste Castle
The Konopiste castle was founded at the end of the 13th century as a gothic fortress, after the style of French castles. During its long history, it was converted into a pretentious chateau. The last private owner was a successor to the Austro-Hungarian throne, Francis Ferdinand d´Este. Since 1887, there has been intensive reconstruction performed at Konopiste castle and its surroundings.
Konopiste has become famous as the last residence of Archduke Franz Ferdinand of Austria, heir of the Austro-Hungarian throne, whose assassination in Sarajevo triggered World War I. The bullet that killed him, fired by Gavrilo Princip, is now an exhibit at the castle's museum.
The interiors of the castle are filled with collections of hunting trophies, weapons, souvenirs bought on journeys through distant countries, collections of paintings, ledgers and many pictures. You will visit the hunting corridor with its representative salons. The private family residence of the successor to the throne provides a unique experience. Many personal and private items from the family are still to be seen in their rooms.
Castle keeps extraordinarily rich collection of artistic articles covering Gothic, Renaissance, Baroque and also modern periods. A dimension of this collection puts this castle among the most interesting chateau of the Central Europe.
The Konopiste castle is about 50 minutes out of Prague. Our driver-guide will pick you up at the hotel in the time according to your choice and drive you the the parking place near the castle. These special tours are arranged in a car or in Mercedes Vito, people-carrier with speacial DVD equipment, for a group of 7 persons maximum. Price are set for whole groups regardless of the number of people.
During this half-day tour, you will see films and get a general idea of the castle from DVD. Our guide will be accompanying you to the castle. You can discuss with her or him about the trip and matter of interest. You are walking around a nice English park and Rose garden with greenhouses. You will be welcomed by a professional local guide in the castle. You can refresh yourselves in a cafe or bistro in the court of the castle. After the excursion you will be taken back to Prague by our car or minivan.
---