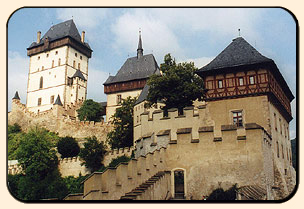 Karlstejn Castle
Karlstejn holds a unique position among Czech castles. Located 25 miles southwest of Prague. This medieval castle was built by Charles IV to safeguard the crown jewels of the Holy Roman Empire.
It was constructed, beginning in 1348, by the archbishop of Prague, The first stay of Charles IV in the castle is documented in 1355, when he came to supervise the building works, as well as the decoration of the interiors, especially the castle chapels. The construction of the castle was completed in 1365, when the chapel of the Holy Cross was consecrated. From the beginning of the Hussite Wars until modern times, the crown jewels of the kings of Bohemia were stored here.
Although the castle has changed over the years, additions such as late Gothic staircases and bridges, restored the castle to its original state.
You can visit the chapel of the Holy Cross, decorated with 130 panel-paintings from the 14th century, by Master Theodoric, along with many beautiful interiors, halls and rooms.
Karlstejn Castle is about 50 minutes out of Prague. Our driver-guide will pick you up at the hotel in the time according to your choice and drive you to the parking place below the castle. These special tours are arranged in a car or in Mercedes Vito, people-carrier with special DVD equipment, for a group of 7 persons maximum. Prices are set for whole groups regardless of the number of people
During this half-day tour, you will see films and get a general idea of the castle from the DVD. Our guide will be accompanying you to the castle. You can discuss with her or him about a trip and matter of interest. You are walking around nice stands with hand-made products. You will be welcomed by a professional local guide in the castle. You can refresh yourselves in a cafe or bistro in the court of the castle. After the excursion you will be taken back to Prague by our car or minivan.
---